At CatalogsAndMagazines.com we're happy to help you prepare, address and send your mail with the United States Postal Service (USPS) and their Bulk Mail program. When filling out the Instant Price Quote, select Mail Services Class, enter the Mail Quantity. Your pricing addressing and processing will be automatically added to the quote. You may Upload your mailing list at any time after checkout. Our mail team will process your list, and provide you with an accurate postage amount. Once you approve and remit the postage, and we'll print, address and deliver your project to the USPS. Read below for answers to more specific questions.
Exact postage amounts depend on the USPS Service Class (first class or standard) you've selected, and the size, weight and thickness of your mail piece. Catalogs, magazines and booklets 6 x 10.5 or smaller may be sent using USPS Letter rates if they are triple tabbed (see Designing for Mailing below).  Larger mail pieces must be sent as the USPS Flat rates. The exact postage amount will be calculated after your order and mailing list are processed.
Before your mailing can be sent, your postage payment must be remitted. Postage funds must be received no later than 2 PM CST on the day before your mail is scheduled to deliver. Postage may be paid by cashier's check, credit card, money order or wire transfer. A 5% administrative and handling fee will be applied to all postage transactions. 
can i use my own indicia?
Mailing permit numbers are married to the post office that issues them. If you'd like to use your own indicia from your local post office, we won't be able to deliver the mail to your post office. Instead, we will ship your completed, addressed order to you and you'll be responsible for paying the postage and delivery to your local post office bulk mail entry. 
If you want CatalogsAndMagazines.com to enter your mailing into the postal system, then you must use our indicia on the mail pieces. 
When do i need my mail piece tabbed?
The only time you need to tab a mail piece is when your mail piece is under 6 x 10.5 and you're planning on using USPS Letter rates. If you do need tabs on your piece, you'll need 2 on the longest open edge and one of the side. Otherwise, your piece will be rated as USPS Flat, which does not require tabbing.
There needs to be plenty of white space around the area where the address will be placed, and the location of the address matters. The exact placement of the address and indicia matter. If your design doesn't follow USPS guidelines, we might not be able to process your mailing with the cheapest USPS rates. Be sure to reference the address placement areas of 4″x2″ and adjust your designs accordingly. Don't worry about placing the indicia… we'll add the indicia before going to press.
To be eligible for mailing at the price for letters, a piece must be: Rectangular. At least 3-1/2 inches high x 5 inches long x 0.007 inch thick. No more than 6-1/8 inches high x 11-1/2 inches long x 1/4 inch thick.
 Suitable sizes: 4.25 x 10, 5.5 x 8.5, 6 x 9
For Automated Standard Letter Rate each piece may have a maximum weight of 3 oz.
For Automated First Class Letter Rate each piece may have a maximum weight of 2 oz.
 Heavier pieces will be mailed using Flat Rates.
Each mail piece must be tabbed with 2 tabs on the right edge of the mailing panel and 1 tab on the left edge of the mailing panel.
Address should be placed on the back cover, with the bound edge at the bottom. Indicia and permit number should be in the upper right hand corner. 
Address area: 4 x 2
Indicia area: 1 x 1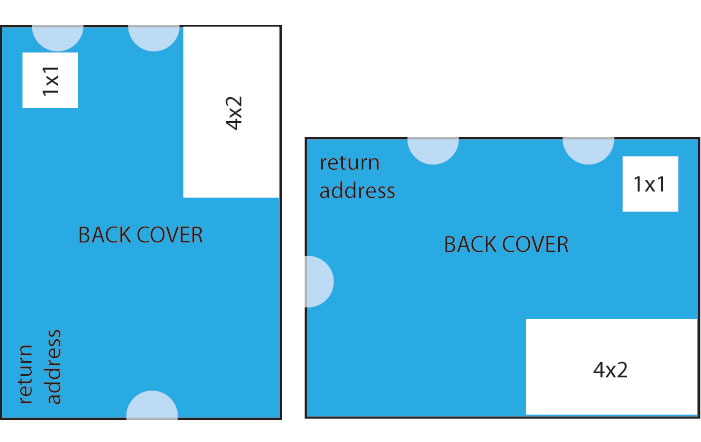 For Automated Standard Letter Rate there is a minimum of 200 pieces.
For Automated First Class Letter Rate there is a minimum of 500 pieces.
Have one dimension that is greater than 6-1/8 inches high OR 11-½ inches long OR ¼ inch thick. Be no more than 12 inches high x 15 inches long x ¾ inch thick. 
Suitable sizes: From 4.25 x 10 to 9 x 12
For Automated Flat Rate each piece may have a maximum weight of 3 oz.
Heavier pieces are charged a piece + extra pound price.
Tabs are not required for Flat Rate mailings.
With the bound edge on the right side in the portrait position, address must be on the right side, in the top half of the piece. Indicia and permit number should be in the upper right hand corner. 
Address area: 4 x 2
Indicia area: 1 x 1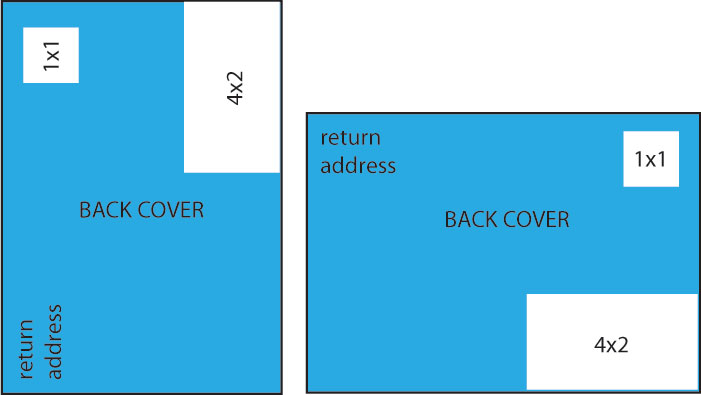 For Automated Standard Flat Rate there is a minimum of 200 pieces.
what about my mail lists?
You may upload your mailing list at any time after you successfully checkout. To upload the list at a later time, log into the site and visit the My Account page. 
Direct mailing services includes processing on 1 mail list. Additional lists are accepted with an additional charge of $75 per list. If your mailing list(s) require extensive work for "cleaning" or merging, additional charges may be incurred. 
We accept .csv, .xls, .xlxs formats only. Please ensure that your data is properly formatted with a separate column for every field (for example: "City  |  State  |  Zip" and not "|  City, State  Zip  |").
what fields does my list need?
Your list should at least contain: Name, Street Address, City, State, Postal Code. You might also consider adding Business Name, Address2, Title… depending on the data you have available. Download our Mail List Template.
what about duplicate addresses?
When we receive your list, we automatically remove duplicate records. Additionally, your list is run through the NCOA (National Change of Address) and CASS (Coding Accuracy Support System) databases to ensure that the addresses are active and valid for delivery. Any addresses that are Undeliverable As Addressed (UAA) are removed from the list. You may request a copy of UAA addresses by calling 800-604-3063.
can i get a copy of my "cleaned up" list?
You may request a copy of your mailing list once duplicates have been removed and NCOA and CASS certifications have been done. Call 800-604-3063 to make arrangements.
Can i get some of my pieces mailED and the rest shipped to me?
Absolutely. When completing your order, simply enter the Mail Quantity amount and the Total Quantity. The difference will be shipped directly to you.
How long will it take for my job to be mailed?
An extra business day is added to the production time to accommodate for the mail preparation and inkjet addressing. For example, if you selected production in 5 business days the mailing will be accomplished within 6 business days.
can my print job COVER be coated and inkjet addressed?
We are not able to inkjet address covers with UV or Aqueous coating. We can inkjet address covers with Gloss Varnish or No coating.
Can I purchase a marketing/mailing list from you?
Yes you can! We have access to all major consumer and commercial mail lists as well as specialty lists. For more information, call 800-604-3063 for more information and pricing.